1941 – $326 and a hot dog stand.
The History of Carl Karcher and the Carl's Jr.® Business
Carl N. Karcher was born January 16, 1917, in Upper Sandusky, Ohio. His formal schooling lasted through the eighth grade when he left school to assist his parents on the family farm.
As a young man, Carl made the decision to move from Ohio to Anaheim, California. He worked 12-hour days, six days a week, at his uncle's feed and seed store for $18 per week. In August 1938, he went home to Ohio until a new opportunity arose.
The following year, Carl returned to California and was hired as a bread wrapper for Armstrong Bakery in Los Angeles, quickly earning a promotion to a sales and delivery position. He married Margaret Heinz on November 30, 1939 — a marriage that endured for more than 66 years, and yielded a close-knit family of 12 children, 51 grandchildren and 45 great-grandchildren.
1941 was the year that changed Carl's life, from a career standpoint. He and Margaret purchased a hot dog cart on July 17, 1941, for $326 ($15 cash and $311 borrowed on his 1941 Plymouth Super Deluxe). The first day's sales totalled $14.75. The business grew, and on January 16, 1945, Carl opened Carl's Drive-In Barbecue in Anaheim, Calif. The first Carl's Jr.® restaurants opened in 1956.
CKE Restaurants Holdings, Inc. ("CKE") is a privately held company headquartered in Franklin, Tenn. CKE is not a franchisor and conducts substantially all of its restaurant activities and operations through its subsidiaries.
Carl's Jr. Restaurants LLC and Hardee's Restaurants LLC own, operate and franchise the Carl's Jr., Hardee's, Green Burrito® and Red Burrito® concepts. Carl's Jr. and Hardee's operate as one brand under two names, acknowledging the rich regional heritage of both banners. After recent international openings in Chile, Cambodia and Kenya, Carl's Jr. Restaurants LLC and Hardee's Restaurants LLC now have over 3,800 franchised or company-operated restaurants in 44 states and 43 foreign countries and U.S. territories.
Community Service
Carl was an active supporter and board member of many non-profit groups and encouraged community involvement within the company he founded. He chaired the 1978 and 1979 Orange County United Way campaign and raised more than $18 million.
He and his wife Margaret generously and enthusiastically contributed to many organisations and were long-time supporters of such groups as Providence Speech and Hearing Center and Lestonnac Free Clinic.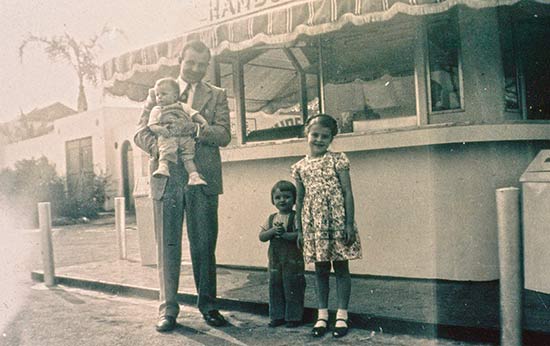 Carl Karcher and his kids in LA outside his burger stand.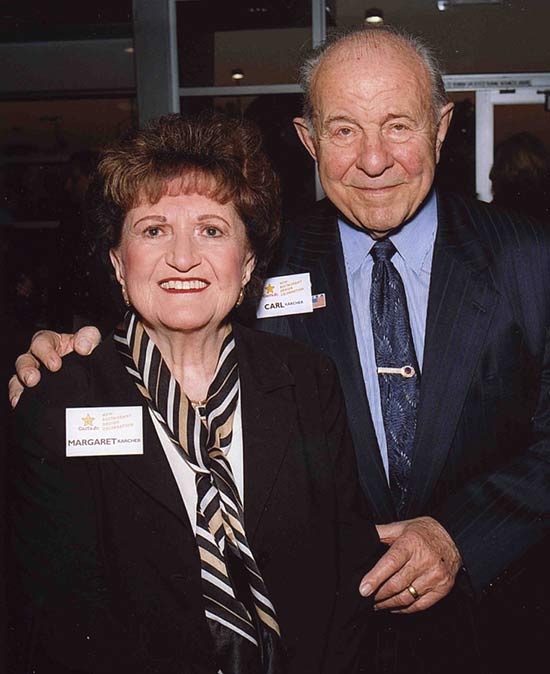 Margaret and Carl Karcher, 2006
Selected Awards & Honours
2007
Honoured with a star on the Anaheim/Orange County Walk of Stars as an entrepreneur, philanthropist, and community pillar; only second to receive the honour behind Walt Disney.
2002
The Child Guidance Center honoured Carl with the Lifetime Volunteer Achievement Award
Received the Lifetime Achievement Award from Providence Speech and Hearing Center
Cal State Fullerton honoured Carl with the 2002 Honorary Alumni Award, the highest honour they bestow upon their friends and supporters.
2001
Carl and Margaret Karcher were honoured by the Assistance League of Anaheim for their community work.
2000
Carl and Margaret Karcher were Honorary King and Queen for Rosary High School Royal Ball Dinner/Dance.
Carl and Margaret Karcher received the Elizabeth Ann Seton Award for their significant contributions to education in America and to Catholic schools in particular.
California Republican Party honoured Carl for Republican Of The Year.
1998
California State Polytechnic University, Pomona, Founder's Day Award for personal commitment and philanthropic generosity to the university.
1998 Service Award from The Clair Burgener Foundation for the Developmentally Disabled.
Lifetime Achievement Recipient, Greater Anaheim Chamber of Commerce.
Monsignor Thomas A. Kiefer Humanitarian Award, Bishop Amat High School for contributions of time, energy and treasure to humanitarian projects in the greater Los Angeles area.
1997
California Trade and Commerce Agency added Carl Karcher's name to the California Tourism Hall of Fame.
Humanitarian of the Year Award, North Orange County Family YMCA
1996
Assistance League of Newport Beach honours Carl and Margaret Karcher for their outstanding community volunteerism.
Ambassador of the Year Award, Legatus whose purpose is to make members better Catholics in their personal lives, their family relationships and their business management.
1995
Boys and Girls Clubs of America honour Carl with the Service to Youth Award for his 12 years of service as a member of the Pacific Board Group, a trustee, a member of the National Advisory Council and a National Associate.
Carl and Margaret Karcher chosen as Santa Margarita Catholic High School's "Sweetheart Couple" for the Valentasia benefit ball for their leadership and friendship to the school.
Reach Out Award from the YMCA Community Counseling Services.
1994
The Public Service Award from the California Speech-Language-Hearing Association.
1993
MUFSO (Multi-Unit Food Service Operators) Pioneer of the Year.
1992
Received the Giving is Living Award, Volunteer Center of Orange County.
Honoured by the Constitutional Rights Foundation of Orange County and Sons of the American Revolution.
Cypress College's Americana Man-of-the-Year.
1990
Spirit of Friendship Award from the Special Olympics for Carl's outstanding contribution to those with special needs.
The Americanism Award from the Boy Scouts of America, Western Los Angeles County Council.
1989
Inducted into the College of Diplomats, Educational Foundation of the National Restaurant Association.
1989 Hall of Fame inductee, California Restaurant Association's Educational Foundation.
1987
Philanthropist Of The Year Award from the National Society of Fundraising Executives.
1983
MUFSO (Multi-Unit Food Service Operators) Man of the Year and Golden Chain Award from MUFSO.
1982
Served on the President's Private Sector Survey on Cost Control (Grace Commission) to identify waste and inefficiency in government.
Free Enterprise Award from The San Fernando Valley Business & Professional Association.
1981
Pope John XXIII Award from the Italian Catholic Federation for "best exemplifying benevolent, philosophical and charitable principles."
1980
Private Enterprise Exemplar Medal from Freedoms Foundation at Valley Forge, Pennsylvania for active service to his community.
1979
Horatio Alger Award for his distinction in accomplishments through individual initiative, hard work and adherence to traditional ideals.
1978
Recipient of the Silver Plate Award from the International Foodservice Manufacturers Association, one of the most coveted distinctions in the foodservice industry.
1976
Carl was Knighted into the Order of Malta, one of the highest honours a layperson of the Catholic Church can attain.

Do you have a site you'd like us to consider or another enquiry related to the Victorian Carl's Jr.® rollout?